Making a Difference
A fresh new Craft CMS website and a digital marketing strategy that delivers for an accountant that is doing things differently.
+260%
Increase in leads generated
+358%
Increase in new business revenue
+46%
Increase in new customer value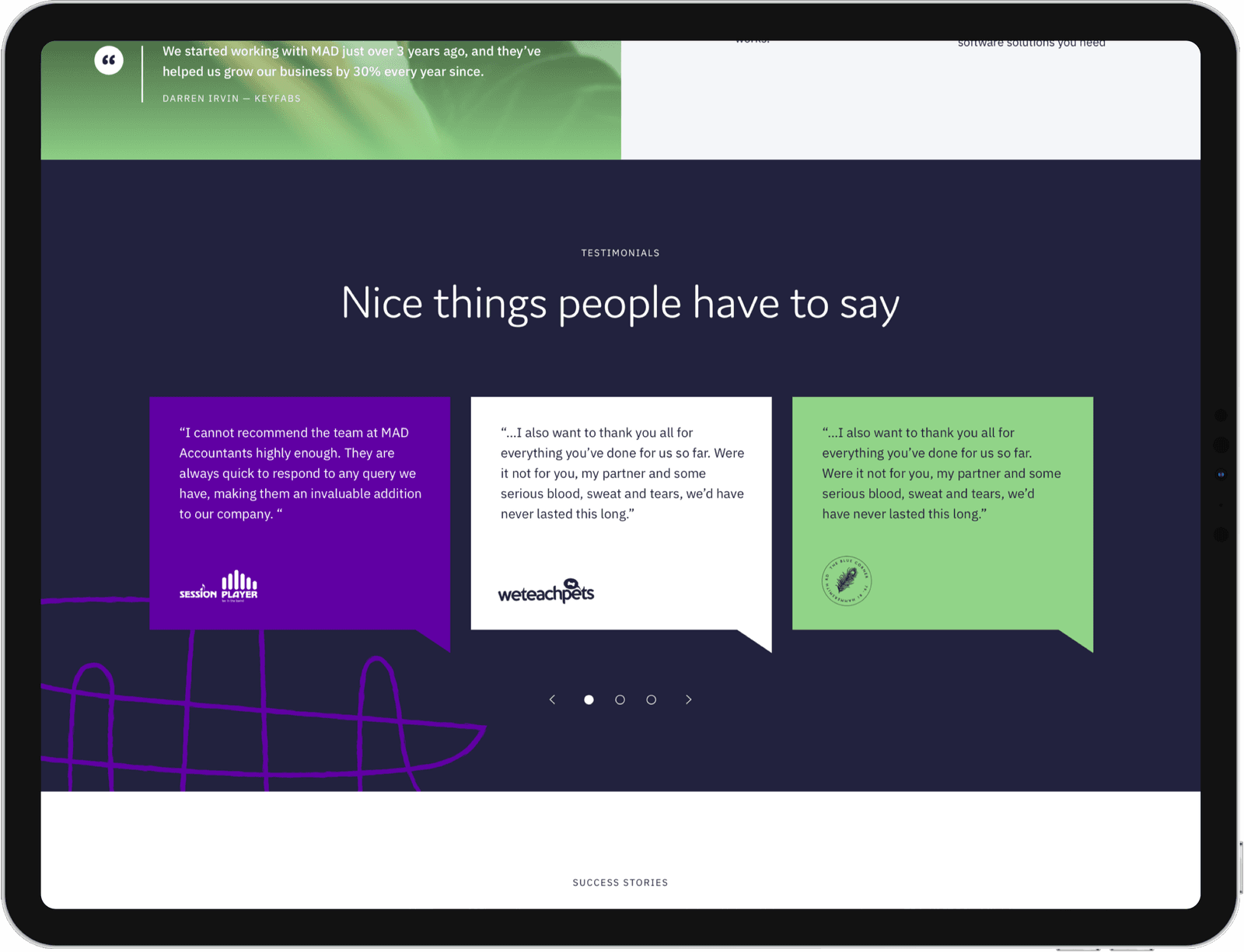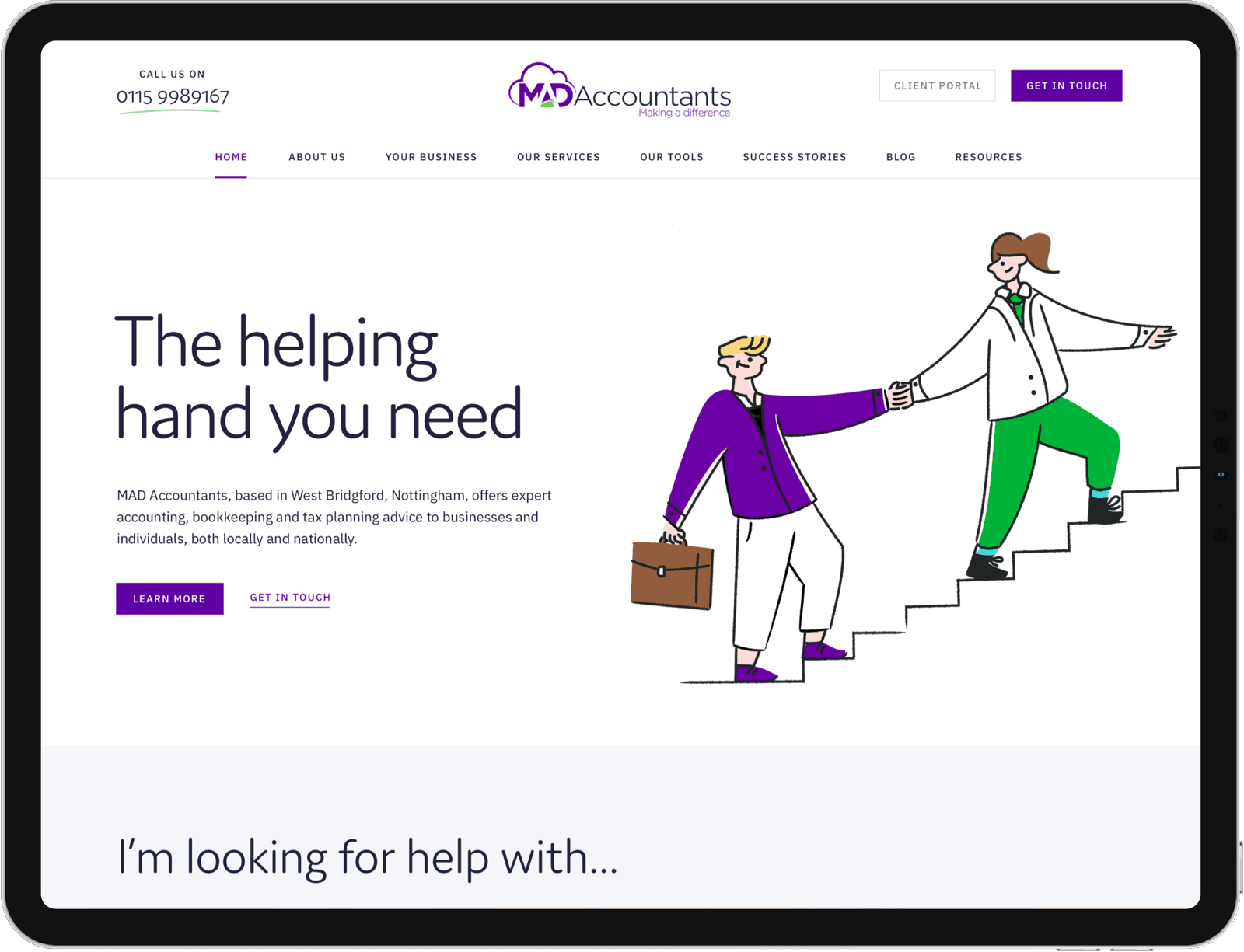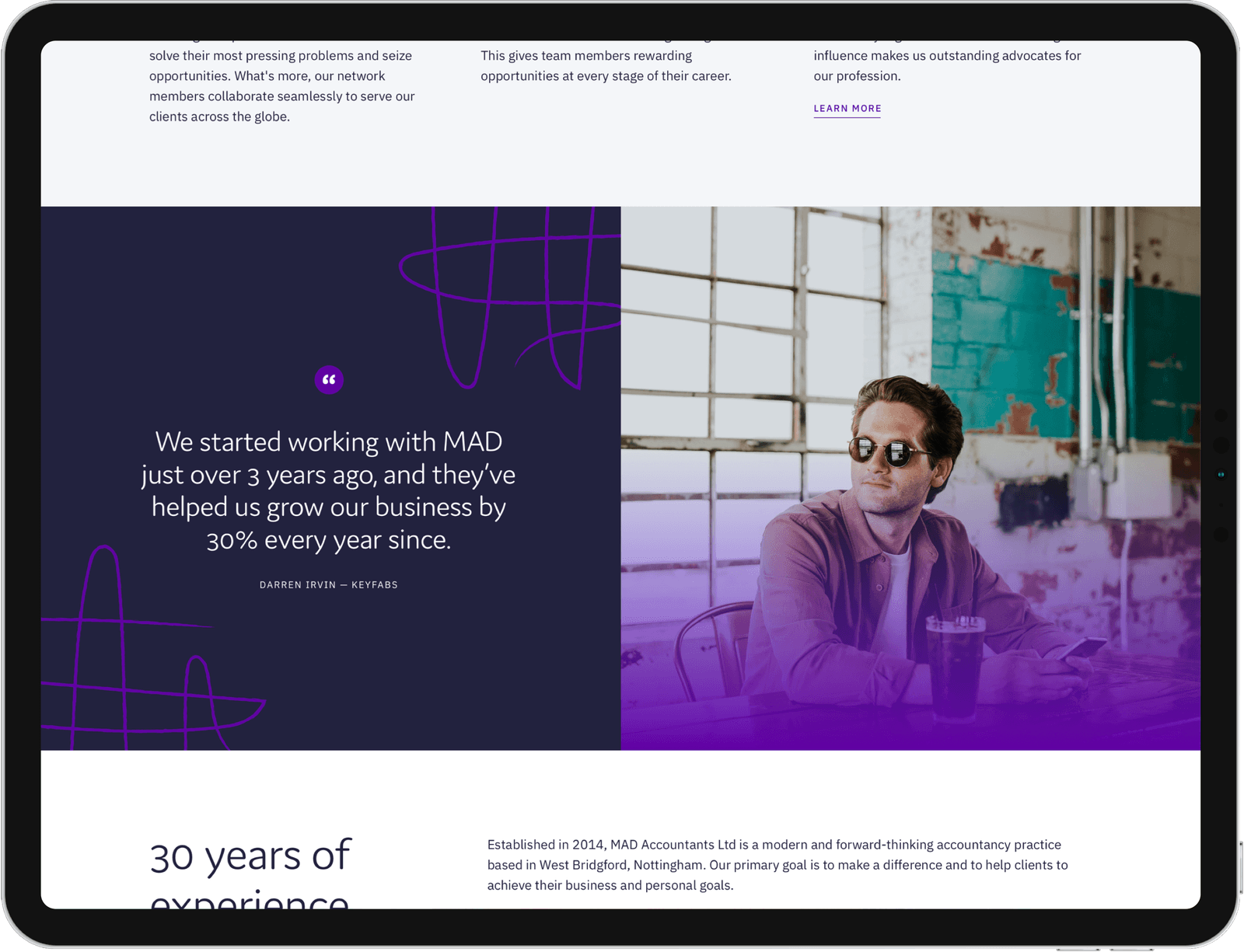 Background
When M.A.D. Accountants first approached webdna about a new website they were still using an off the shelf template site that was not working for their business. Their primary objectives were to create a new website that better reflected their business, ensured that they stood out from the competition, and delivered more, higher-value clients.
Geoff and his team at M.A.D. Accountants do a great job for their clients. They make a difference for their clients every day, and every time something great happens to their business, they make something great happen for the world through the not for profit B1G1. Whenever a new client signs up, they file a company or personal tax return, file a VAT return or confirmation statement, or they get a new follower on Twitter, then donate via B1G1. The problem was, they felt that they could be doing better at all of those things!
Results
Q4 2019 vs Q4 2020
358%
increase in new business revenue
46%
increase in new customer value.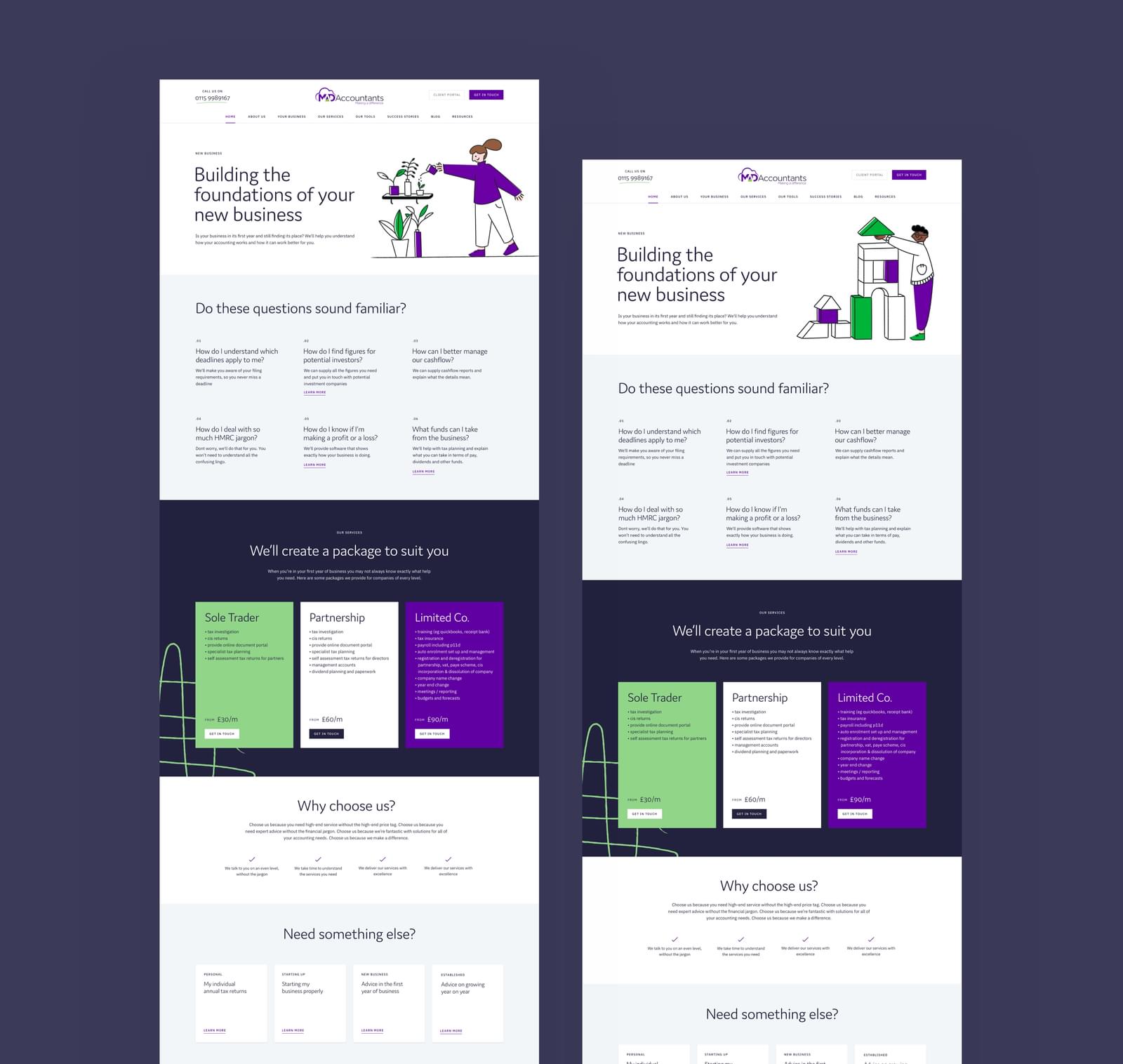 A Fresh Look and New Website
We designed and built a brand and website that reflects who M.A.D. Accountants are, and works hard for them.
We spent time with the M.A.D. Accountants team to understand their business. They are more than just another accountants in Nottingham. They work hard for their clients and set out to make a difference through their charitable giving. This was not reflected in their old website which was corporate and dull. We worked with them to create some characters that feature throughout the website and some icons that immediately give the right feel for the M.A.D. Accountants experience. This effective branding helps to set the tone for the site and are supported by carefully selected imagery that contextualises the type of clients they help.
We built their new website on Craft CMS and embedded the B1G1 data via its API showing in real-time what difference M.A.D. Accountants are making in the world. Their old website also had over 4,200 search engine optimisation (SEO) errors so an important part of the new website was to improve their search engine performance. Their new website is not just a brochure for their business, it is also carefully structured for SEO. It drives the right new people to the business and captures the right leads.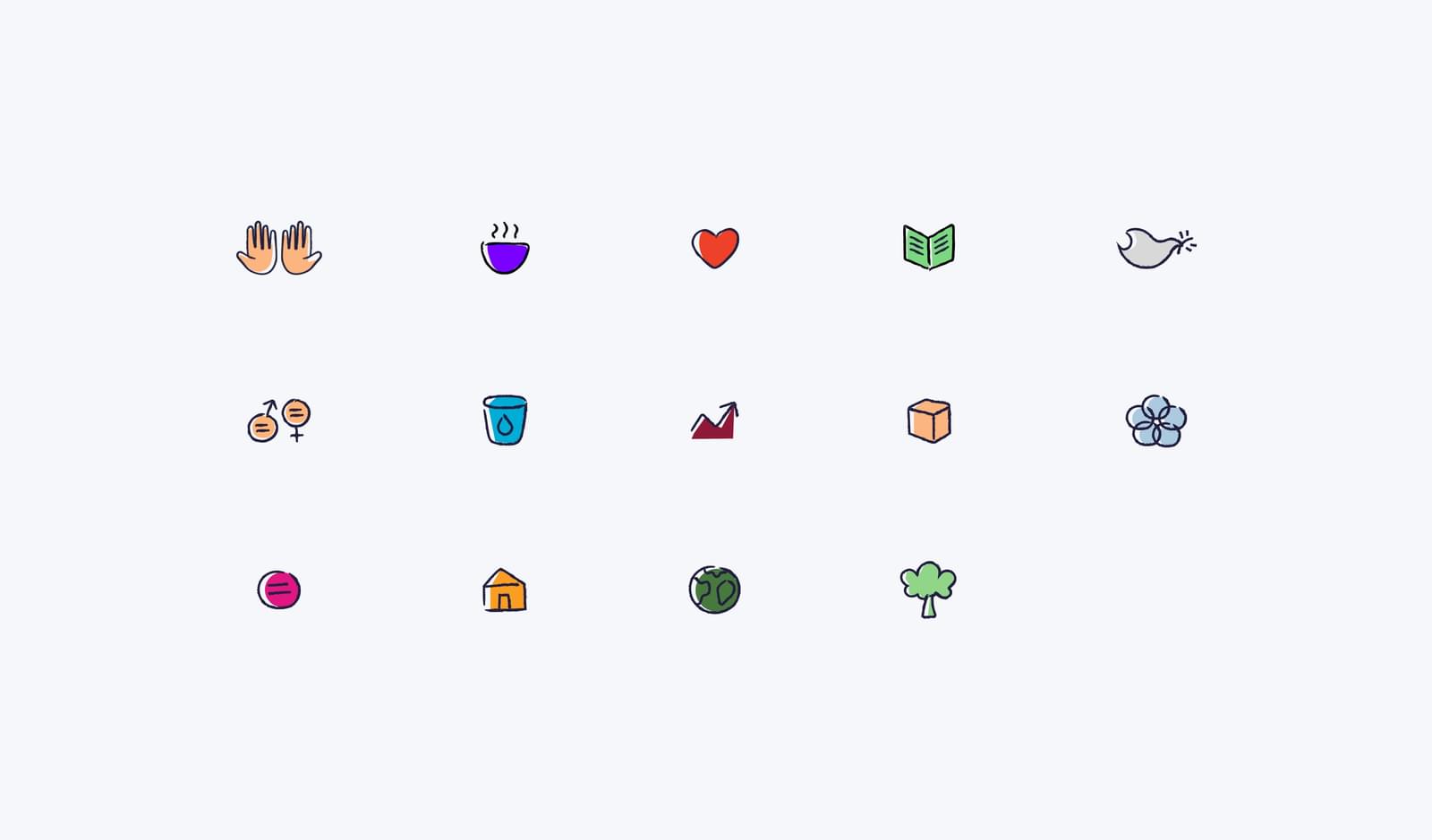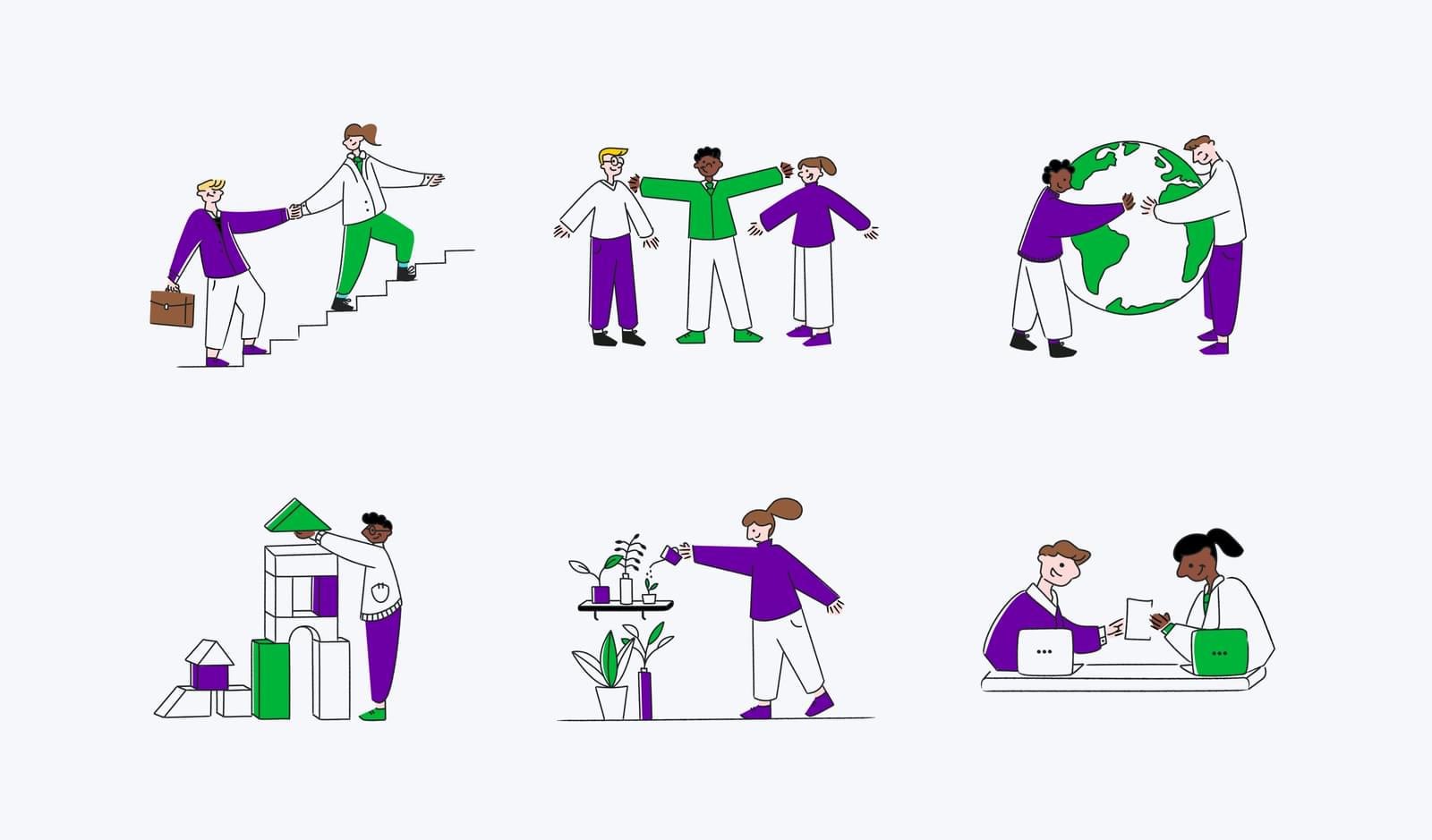 Lead capture and revenue generation
We created a marketing strategy that puts M.A.D. Accountants in front of their target audience, delivers leads and helps them win new clients.
Working with Geoff and the team at M.A.D. Accountants we were able to understand the type of clients that they were looking for. We then started to build out content would not only attract the right audience but was also built with SEO in mind. We focused on the keywords that M.A.D. Accountants needs to be ranking well for and improved their search position for all 20 of the terms that they were already ranking for, as well as a further 20 keywords or phrases. We have delivered blog content, social media content and newsletters that drive new business to M.A.D. Accountants resulting in huge improvements in the number of leads generated, the value of new business won and the average size of new contracts.