Aug 08, 2022 / Craft CMS
webdna recognised as UK leading Craft Commerce Agency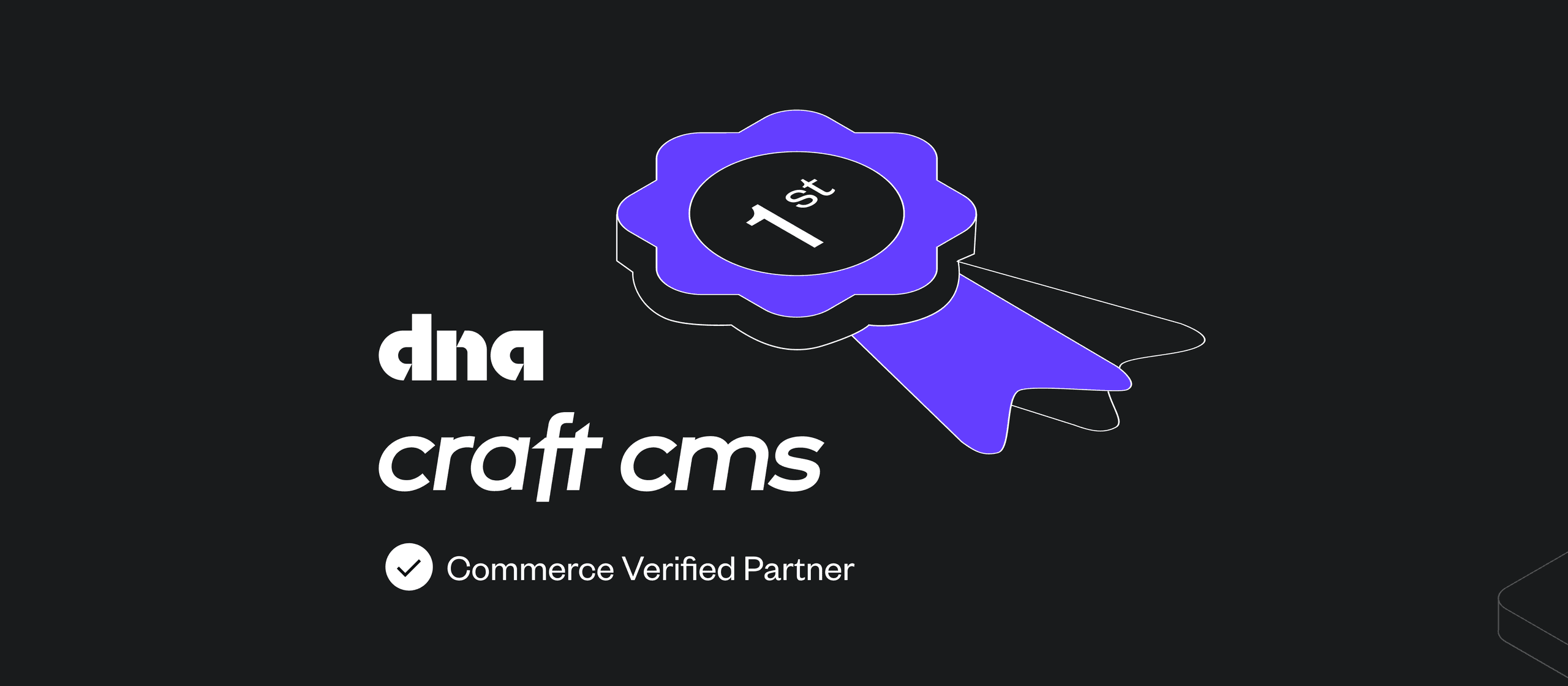 webdna becomes the first Craft Commerce verified agency in the UK, passing stringent tests with flying colours.
We are very excited to announce that webdna is the first UK agency to become Craft Commerce verified. We are not only the only UK agency to achieve this accolade, but only the fourth in Europe and 13th worldwide, placing us in rarified company with the best Craft agencies anywhere in the world.
To be selected by Pixel and Tonic (creators of Craft CMS) to be Craft Commerce verified, we had to demonstrate the quality of our work using Craft. This involved providing the code base from three of our projects for a code review, as well as contact details of each of those clients for the assessors to discuss our level of service, attention to detail and overall professionalism.

It is great that we have been recognised for our Craft Commerce expertise by becoming the first (and currently only) UK agency to be awarded the coveted Craft Commerce verification status. We have believed for some time that we have the leading Craft development team in the UK, this award confirms it. We are looking forward to continuing to grow our Craft Commerce expertise and team so that we can help even more businesses create world leading e-commerce experiences with Craft.
Daniel Hammond
Managing Director
Level of experience…
In addition to the review of our code, we also had to demonstrate over 2,000 professional hours of coding using Craft CMS and Craft Commerce. We were pretty sure that wasn't going to be a problem, but even we were surprised when a review of our time sheets revealed that we had totalled over 30,000 professional hours developing across both Craft CMS and Craft Commerce. We don't normally get into this type of navel-gazing, but this process forced us to look at our history with Craft and celebrate our expertise and successes.
We first started developing e-commerce sites on Craft in 2013, those of you who know your Craft history will know that Craft Commerce was not launched until 2015, so in the early days, we had to write our own commerce functionality. That functionality was so successful that much of our code found its way into Craft Commerce 1.0.
Since it was officially launched, we have built 21 new Craft Commerce websites and developed functionality for dozens more via our agency partnerships and plugins. We are also just about to start work on two new commerce sites. One of which we are particularly excited about, as it's one of the largest Commerce sites we have built to date.
Of the 21 craft commerce sites we have built, it is safe to say that a grand total of none of them have been off-the-shelf e-commerce experiences. No easy websites selling books in that lot! The beauty of Craft Commerce is that it allows us to create incredible user experiences for the types of projects that are just more complicated than most commerce websites; think multi-site, multi-currency, multi-language, multiple types of customisation and personalisation etc. and that is just the start of it.
We regularly create sites that allow our client's customers to order products that are often made bespoke or at least customised to their requirements. Craft Commerce really comes into its own for projects like these as it enables us to build really great customer experiences whilst also delivering the e-commerce functionality that is needed.

It is not just the customer experiences and e-commerce functionality that we specialise in though, we have also become experts in integrating Craft Commerce with other tools such as:
CRMs (SalesForce, HubSpot, Microsoft Dynamics, Zoho)
ERPs (BizTrack, Zoho, SAP, Microsoft Dynamics)
Payment gateways (SagePay, PayPal, Stripe, Worldpay)
Marketing tools (Campaign Monitor, MailChimp, SendGrid, ActiveCampaign, MailGun)
Analytics tools (Such as Google Analytics, both direct and via tag manager, Adobe Analytics, Lead Forensics)
and many more...
In many cases, we have not just integrated with those tools, we have also built Plugins to enable the rest of the Craft Commerce community to benefit from our expertise.
Craft Commerce allows us the flexibility to extend the functionality of the system to meet our client's requirements, and the ability to integrate with 3rd party services giving our clients a streamlined automated sales pipeline.
Samuel Birch
Technical Director
After almost ten years of developing e-commerce websites on Craft - seven of which using Craft Commerce, we remain super committed to building the sites that work really hard for our customers using Craft Commerce. Becoming Craft Commerce verified should help us demonstrate to new clients that we are leading the Craft Commerce revolution in the UK.
If you have an e-commerce business or idea and are looking for a partner to help you to build your online experience, please get in touch.