Aug 30, 2023 / Team
webdna welcomes Junior Developers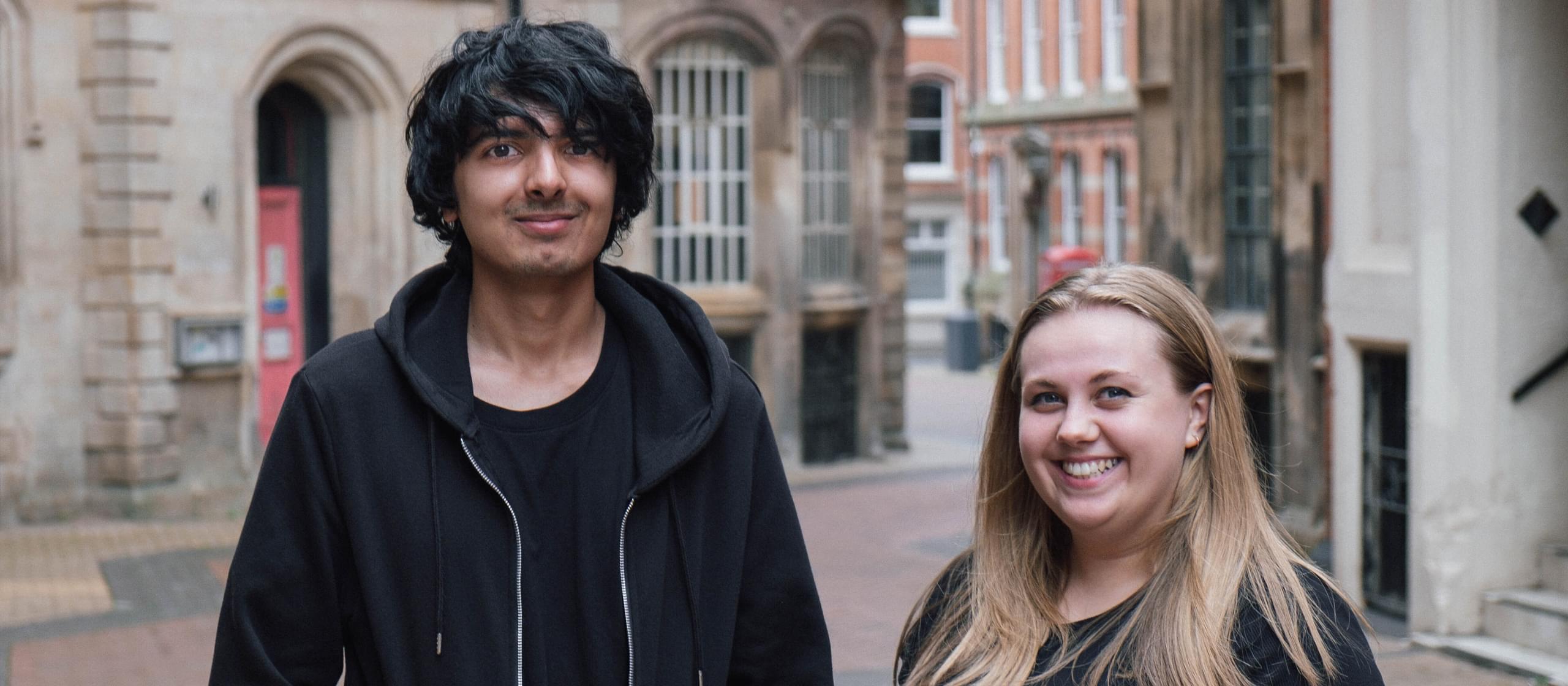 Nottingham Craft CMS agency webdna welcomes two new members to their team.
It's been a time of growth here at webdna. Particularly in the Development team which has seen an increase in varied and complex projects both locally and globally. Word has clearly started to get out about our Craft CMS expertise!
As I've said before, we're almost always looking for exceptional talent to join our team. But in 2023, this increase in workload (combined with some very exciting plans for the future) prompted us to step up our search for new talent. Fast forward a few weeks and over 500 applicants, and I'm pleased to tell you it was a great success. Welcome to the webdna team not one, but two new Junior Developers Sajan Basra and Georgia Evans.
It was our intention to recruit one Junior Developer, but both Georgia and Sajan displayed such exceptional qualities that, even in a sea of high-calibre candidates, we found it difficult to decide between them. So we had our cake. And ate it!

'We were astounded by the number of applications in this recruitment process and, I feel, this gives us a little insight into the industry as it stands. Firstly, organisations are more aware than ever that an exceptional site can set them apart from their competitors. This, in turn, has driven the demand for skilled developers who are capable of understanding their clients' goals. On a more personal level, though, the fact that we attracted so many great candidates is a testament to how webdna has grown and established itself as a leading Craft CMS development agency.'
Daniel Hammond
Managing Director
So what about our latest recruits? Sajan has recently completed an apprenticeship in software and web development. Following this he was keen to secure a role that would help him further hone his skills. He's passionate about development and coding and has settled into his role quickly getting to grips with Craft CMS and Craft Commerce.
Outside of work, Sajan enjoys playing the guitar and gaming. We also recently discovered that he's pretty good at escape rooms on account of his ability to randomly test combinations on locks. A skill that will no doubt come in handy again at some point.
Georgia studied Digital Media Technology at Nottingham Trent University before training to be a teacher. For the last three years, she has been teaching Programming and Development to 11-18 year olds. She brings with her a host of transferable skills that will surely be of benefit to the wider team! It was always Georgia's intention to join the web development industry and, she tells us, now felt like the right time to do that. She too enjoys a bit of problem-solving and programming and is looking forward to learning more about Craft CMS and how it works. In her spare time, she goes to a weekly pub quiz and binge-watches tv shows on Netflix. The perfect addition to our team!

'It's great to have Georgia and Sajan join our growing team. They each stood out at interview, not only because they demonstrated potential but also because they came across as brilliant personalities and, along with solid foundations, both were extremely eager to progress in their careers. They've already been busy getting to grips with Craft CMS and developing sites and it's clear to see that they are going to make fantastic additions to the business as a whole.'
Sam Birch
Technical Director
It's also probably worth pointing out that in recent months we have altered our approach to recruitment slightly by introducing the principles of DISC Assessment. This is a psychometric assessment that we already use in-house to measure how the team prefer to behave and communicate as individuals.
For the Junior Developer role, we took what we already knew about our processes and the demands of the job and used it alongside DISC theory to create a job profile. We then assessed candidates against this to determine how they'd fit in alongside the team. It has proven to be a vey useful approach and, although we'd never recruit solely on DISC, both Sajan and Georgia were strong matches for the role giving us even more confidence that they'd be great for webdna.
But perhaps most importantly of all, it has meant that we have had a good understanding of what Sajan and Georgia need to get the best possible training and make the most of their roles - I'd say that's a win-win situation!

We're always on the look out for great people to join our team so do be sure to keep an eye on our recruitment page or get in touch with us if you think you'd be a great fit for webdna.