Mar 23, 2023 / Team
webdna is one of the 100 best places to work 2023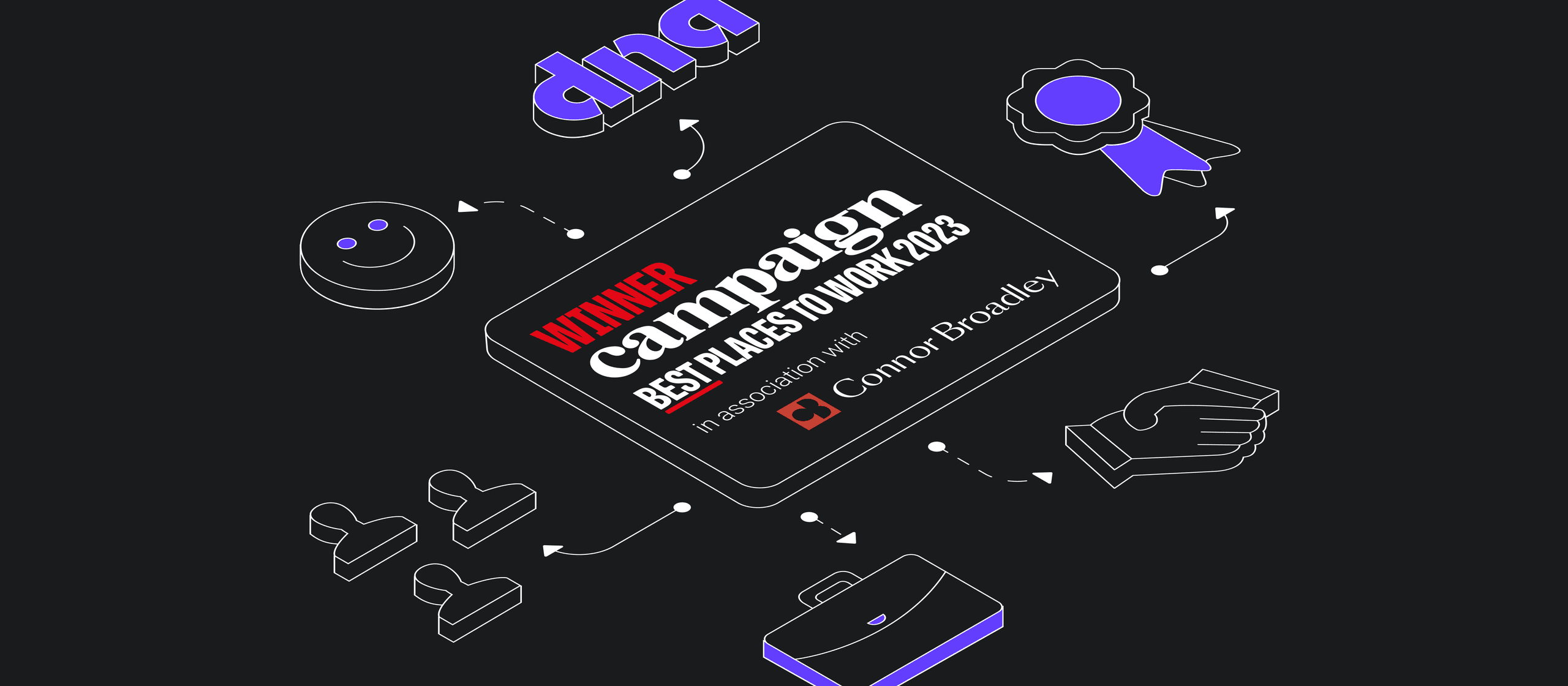 webdna has been recognised as one of Campaign Magazine's 100 Best Places to Work in 2023.

It is great to receive an award that celebrates the entire team and the culture that we have built together, and we are especially proud to be included amongst a list of very impressive companies.
We are delighted that Campaign Magazine has named webdna as one of the 100 Best Places to Work in 2023. It is credit to the whole team who have worked together to build a culture that makes this such a great place, bringing hard work, good humour and support for each other every day. It is a culture that we are proud of and one that we will all continue to develop together.
Sophie Blaken
Marketing Director, webdna
Our Culture
We turn 20 this year, and in two decades many things have changed, but our focus on building a great place to work has always remained. In the early days, it seemed to happen effortlessly. It revolved mostly around doing the things that we all happened to enjoy - building websites and going skiing, paintballing, go karting, watching comedy and listening to an eclectic mix of music.
As the business grew however and the team became more diverse, maintaining a culture that we are really proud of has taken more focus. In response, we doubled down on creating space for it to evolve. Part of this has included making sure that we continue to support the people who work here to live the lives that they want to lead, whilst also providing a work environment for them that is stimulating, challenging and still just as fun as it was in the beginning.
We believe that we have a culture that each individual loves being a part of and feels valued in. We may not have not been paintballing for a while, but our next team social is laser tag which is pretty similar but with less bruising.

We are really proud of this award and to join such a great group of companies on the 100 Best Places to Work 2023. It is the result of a two-part process conducted by an independent research company. This award is especially valued by us as employee feedback is given a sizable 75% weighting in the decision-making process; with the remaining 25% resulting from close scrutiny of our established practices, staff benefits, policies and practices.
This quote from the email telling us that we had won, sums it up nicely…

Being named on the list, which is compiled by Best Companies Group and Campaign, shows that your organisation has what it takes to retain and recruit a happy and engaged workforce. This year, we had a record-breaking number of entries, so you should be very proud.
Gemma McIntyre
Campaign UK
Our People
This award celebrates each and every person who works at webdna. It celebrates the effort that we have all put into building a place where we all want to work, the openness that it takes to challenge each other to be better, and the bravery to never walk past a problem. We salute your passion, your hard work and the effort you put into your work, supporting each other, and having fun. Chapeau!
Having been a stay-at-home parent, I had not been back in full-time employment long when I joined the team. In the interview process, rather than focusing on my career break, webdna took the time to understand me as a person and the skills and strengths I could bring to the business. Our culture and approach mean that I have been able to manage a significant transition in my life while putting my family first. Having this support and flexibility helps me to produce the best possible work for our clients.
Gemma Fenyn
Content Manager, webdna
webdna is a fantastic place to work and so the award in my eyes is well deserved. It's an agency of people who are passionate about the work they do and it's impossible not to be inspired by them. I feel valued as an employee and I'm constantly provided opportunities for professional development so my confidence has grown significantly in the past three years. I'm grateful and excited to see how the company evolves.
Lydia Dobney
Junior Graphic Designer, webdna
webdna is a great company to work for. We work hard and help each other as a team but we also support people and recognise them as individuals and this has made for a great culture.
Charlie Gentle
Senior Web Developer, webdna
Think this sounds like the type of culture you might like to be part of? We would love to hear from you. Drop us an email, but don't expect a response today, we are going out to celebrate!

Find out who else made Campaign Magazines' top 100.