Apr 23, 2021 / Craft CMS
We are now Craft CMS Verified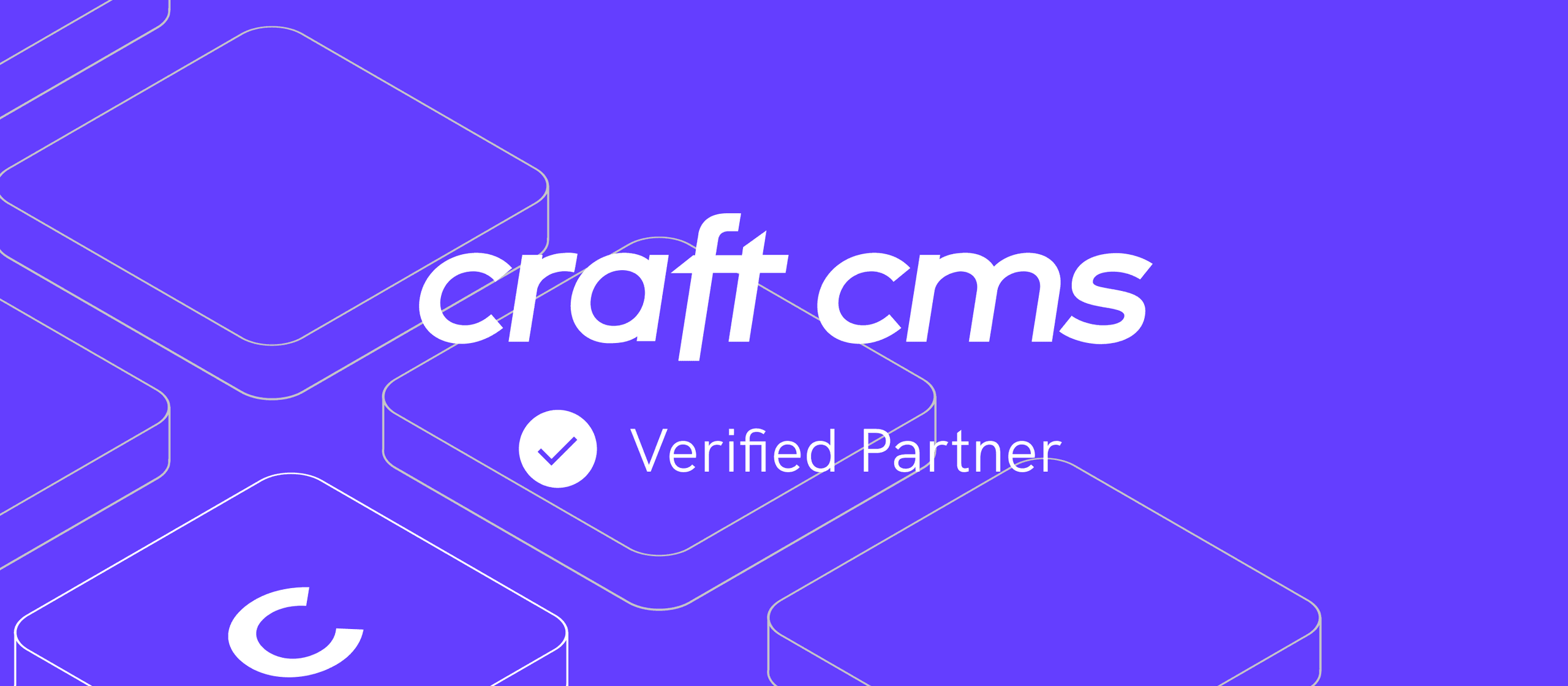 Nottingham based agency, webdna has been recognised as one of only 39 Craft CMS Verified partners globally.
It's official, we're now Craft CMS Verified. While we've been recognised as a Craft Partner for a while, this recent accreditation means that we've been able to demonstrate a higher level of proficiency to become one of only six verified agencies in the whole of the UK; and only 16 across Europe.
For us to become verified, Craft has closely scrutinised everything that we're doing. They've spoken to our customers to find out how they feel about the work we have completed for them and the impact it has had on their businesses.
They've also checked out completed projects - not only looking for the highest level of technical expertise but for examples of where we have delivered solutions for our clients; real, tangible benefits that go above and beyond what you'd expect from your agency.
To even be considered for Craft CMS verification, an agency needs to have completed over 2,000 business hours. Now there's a theory, made popular by Malcolm Gladwell's book Outliers, that in order to be an expert in a certain field, you need to clock up an average of 10,000 hours of practice. We did some quick maths and over the past 10 years, we've passed the 20,000 mark. Needless to say, we've put more than enough hours in to be working at expert level!
Craft also wants an agency to have completed at least five Craft projects. Now we've actually used the CMS since back in 2011 when it was still in private Beta so we knew that we had been involved in many projects. The actual number we arrived at was over 50. Of those, a handful were collaborations with other agencies or work we picked up - the vast majority were our own full projects completed in-house.

This is a great achievement. Not only for the way we implement Craft CMS, but also for the way we extend the functionality via custom plugins to fulfil our clients' requirements. For me as a Technical Director, it's about writing optimised, clean, efficient code that performs well and gives the end-user a great experience. But as well as that it needs to be easy and intuitive to use for our clients in the control panel. To be recognised by P&T for the quality of our work in these areas is amazing and a great credit to the whole team.
Samuel Birch
Technical Director
Why Craft CMS?

As we've said before, it's always been clear to us that Craft was exactly the sort of CMS we were looking for. For us, nothing else balances the needs of designers, developers, content managers - and of course our clients, in quite the way that Craft does.
It combines the tools that developers want while at the same time giving them the flexibility to build what they need. It is not limited by themes, which means designers are free to create exactly what they need for a project; and, where content is concerned, not only does it handle text, videos, images etc. seamlessly, but edits can be made quickly and the live preview function helps you visualise the finished page in real-time.
Our Craft work is as varied as our customer base. We understand that you can't take a one-size-fits-all approach when working with partners of different sizes across a multitude of sectors; we have built sites for owner-operated businesses, SMEs and larger enterprises. This might involve creating sites to support marketing clients, incorporating plugin development, custom functionality builds or integrations with third-party solutions. We also build and manage bespoke e-commerce websites- with all of the custom user journeys, functionality and reporting that our clients need.
Of course, Gladwell's 10,000 hours theory is open to some debate. Yes, practice makes perfect, but it helps to have the right kind of people in the first place. We think we've cracked that. For us, one of the best things about being one of only 39 verified partners in the world is what that represents - we employ great people who produce great work that makes a difference to our clients and their businesses.

Contact us today to chat about how webdna and Craft CMS can grow your business.