May 20, 2021 / Leadership
Own goal? What the ESL can teach us about stakeholder engagement
The European Super League debacle shows us exactly how not to do stakeholder engagement.
The European Super League (ESL) - a breakaway tournament that would have seen England's "big six" competing against some of the best teams on the continent seemed like a good idea to the owners of the top teams in Europe. But how did it all unravel so quickly and what can this football fail teach us about stakeholder management?
Before we get into the finer details, it's perhaps worth pointing out that there is a fairly strong argument that the biggest teams don't play each other anywhere near enough. In this sense, the ESL could have gone some way to addressing this by having twenty clubs compete annually in a Europe wide-league.
One of the sticking points though, and there are quite a few, is that each year a whopping fifteen 'founding' clubs would be guaranteed a place. So yes there would be more chance of seeing those big matchups, but at the same time, it sort of feels a bit like...cheating?
The ESL was to include English teams Arsenal, Chelsea, Liverpool, Manchester City, Manchester United and Tottenham. It took fans around 48 hours, however, to completely dash any chance of English involvement in the league, much to the embarrassment of the clubs involved.
As well as the fan backlash, the teams have come in for a fair amount of financial punishment from UEFA. Our six, along with AC Milan, Inter Milan and Atletico Madrid have received sanctions and will be making a combined £13.4m goodwill contribution to grassroots football across Europe. They'll also be forfeiting 5% of their UEFA revenue for the 2023-24 season.
But the reputational cost to the teams is likely to far exceed the goodwill contributions and loss of UEFA revenue. That reputational cost could so easily have been avoided if the teams involved had engaged with any of the stakeholders so important in the life of a top-flight football club. Fans, pundits, managers and even the players have spoken out in anger that there was no consultation with them at all; leaving the clubs with a job to do to get them back on side.
That's why, whenever we take on a new project at webdna, stakeholder management is key right from the start. There are a couple of tried and tested tools that we like to use. Stakeholder analysis is a core part of this and there are key areas that we always need to consider.

1. Identify your stakeholders
Now, we're not saying that we'd be able to successfully monopolise the beautiful game by seamlessly introducing an elite European competition that seems at odds with everything that is football. But we certainly would not have launched a competition like the ESL without considering the key stakeholders involved.
The first thing we would have done is is identify stakeholders. Why? Because they are key to making sure that things run smoothly. They have the potential to influence the project and those involved in it. Plus, well informed and content stakeholders are less likely to cause you trouble further down the line.
It's also a good idea to think about them in terms of internal and external influences. This lets you see the bigger picture. You might include something that you could have otherwise missed, something that might become a bigger deal further down the line - like maybe sponsors?
So for the European Super League, the analysis might have looked something like this: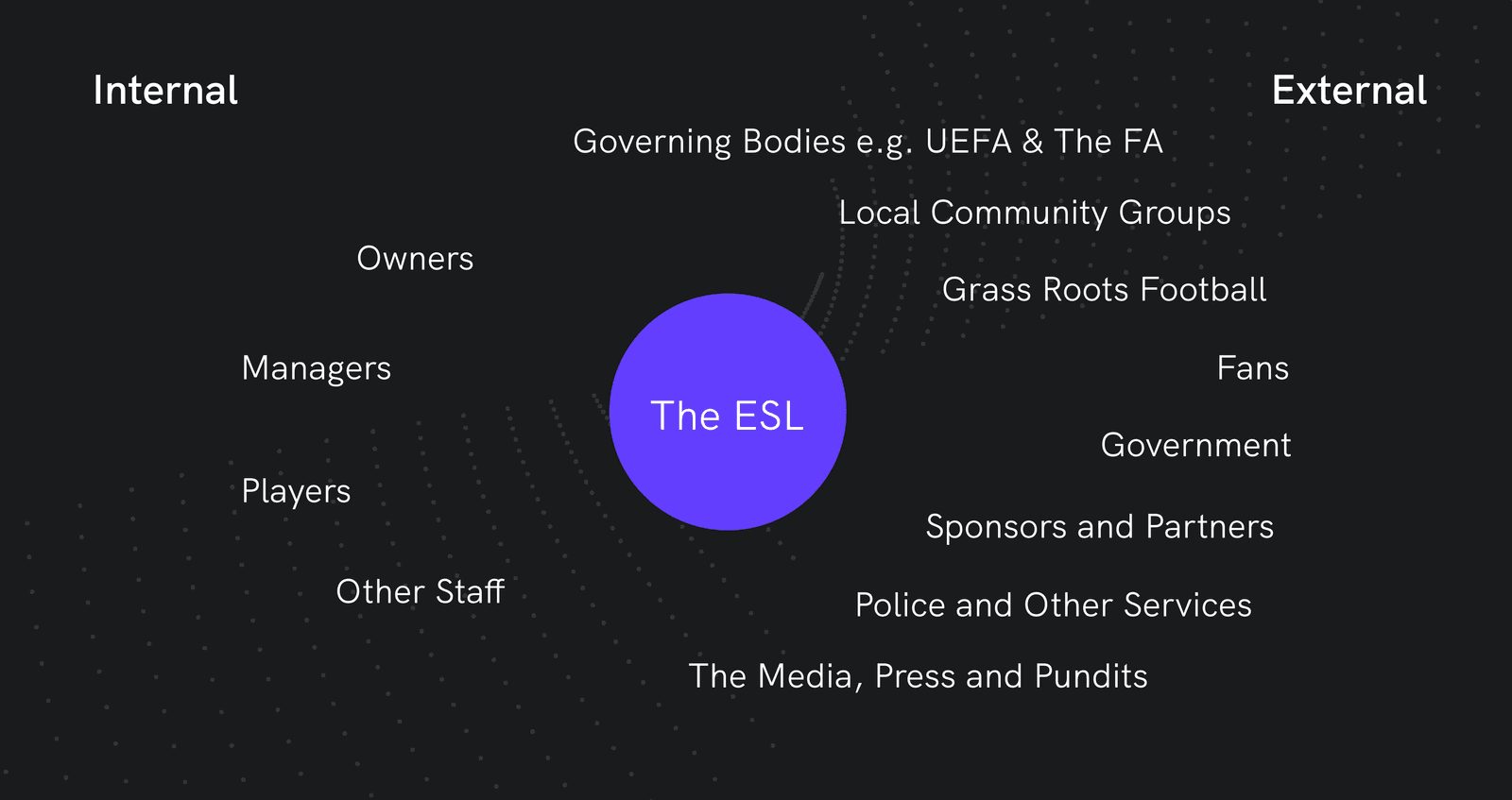 2. Rank your stakeholders in order of influence
This is a useful exercise as it allows you to consider how you will engage each group. By not doing this, you risk just assuming that the stakeholders who are most closely connected to your objectives (or those with the loudest voices) are the most important and influential.
So, to use the ESL as an example, it made sense to view the billionaire owners in higher regard. Their wealth and decision making power meant that they were high influence and, as investors, it was a concept of high interest to them: An opportunity to earn triple their Champions League income, an increase in club status and a seat at the decision-making table for the owners.
The organisers equated the club owner's money with power and influence - which is fair, but they failed to look at the bigger picture. A simple four-box matrix, like the one below, would have helped them do that: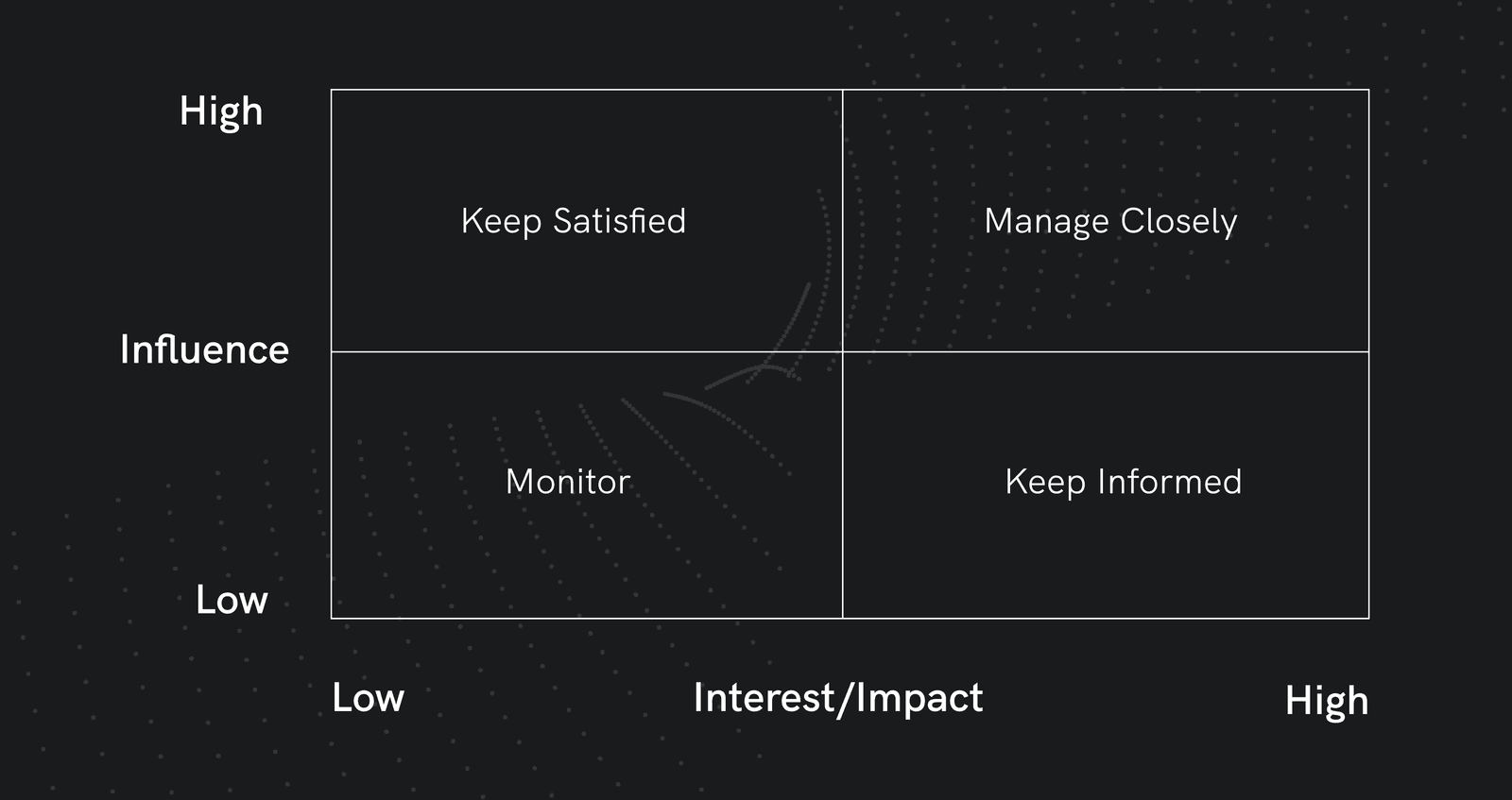 Now, if you've already listed your internal and external stakeholders, you can work with your project group to place them. This might take a bit of discussion and re-working. While it's not possible to predict every outcome, you maybe would have seen stakeholders such as managers and fans falling into the 'Keep Informed' or even 'Keep Satisfied' quadrants. If this had been the case, they might have avoided PR disasters like Klopp's post-game interview after the news broke.
3. Be prepared for the line-up to change...
There's a reason why we refer to strategy as a road map and the same applies to our approach to stakeholder analysis. As strategy may need to switch route to adapt to emerging situations, you may need to switch up the formation of your stakeholders.
The concerns of fans were increasingly overlooked throughout. Even in the NFL, where this sort of migration of teams is more common, it could be argued that fans would have been more closely consulted. This oversight would prove to be both dangerous and costly. As protests erupted, the situation escalated and Boris Johnson waded in - decisive in threatening penalties: a windfall tax, restrictions on foreign transfers, competition law and withdrawing police support; potential sponsors also ceased discussions.
There were many red flags (or maybe in this case cards), that could have been spotted much earlier in the process. Effective stakeholder management would have not only identified and ranked these groups, it would have ensured that there were people and processes in place to manage them.
We can help you with your stakeholder mapping. Whether we're embarking on a design, development or marketing project, stakeholder analysis is a key part of our process. To find out how we can help your business grow, contact us today.